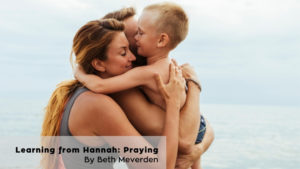 There are many more things to learn from Hannah and her parenting journey. Last week we talked about her longing for a child and the importance of our children knowing they are gifts in our lives.
Today, let's talk about what she did about her longing. Sometimes when people long for something, they try to create the solution without asking for God's help. People make life-altering decisions without following God's instructions, seeking Him for guidance, or even talking to His people about it for godly advice. Most people do this out of fear. They're afraid they won't get what they want so they try to force it to happen.
Please understand I am NOT talking about adoption. I think adoption is a beautiful picture of God adopting us as His children. I AM talking about ANYTHING we want. If we aren't first seeking God, we may get something that is destructive for us or hurt us in the long run.
In her deep anguish Hannah prayed to the Lord, weeping bitterly. 1 Samuel 1:10
Hannah was begging God for a child. My heart aches for all the parents who long to have children and are unable to and I pray God will answer their prayer.
Because you are reading this, it is likely you are a parent, so I turn our thoughts to the endless things we can talk to God about regarding our children. Because Hannah began her parenting journey praying for her child, it is likely she continued praying throughout her life for him.
As an act of gratitude and honor to the LORD, Hannah even named her son Samuel which means "heard by God".
What are the things you ask of God regarding your children?
I once heard a testimony from a mom who had prayed for her children to be popular and successful but never prayed about their spiritual lives. She sadly shared she got what she prayed for. A couple of her children were following the Lord, but she was sharing her cautionary tale and asking parents to pray for their children's salvation and spiritual growth above everything else.
What do you thank God about regarding your children?
Each child is a unique gift from God. What character traits make your child who s/he is? Thank God for all He created your children to be!
What are your primary prayers for your children right now?
I pass along Priest Eli's blessing (to Hannah) to you:
Eli answered, "Go in peace, and may the God of Israel grant you what you have asked of him." 1 Samuel 1:17